E.Christmas Assorted Canapes Box
Food served in wooden box (min 20 boxes)
During the festive Christmas season, when gatherings and client gifts are abound, indulging in assorted canapé boxes has become a new tradition. 
These carefully curated boxes are designed to satisfy both sweet and savory cravings, making them the perfect all-in-one package for any occasion. Available in sizes of 4, 6, or 9 canapés per box, our assortment ensures there's something for everyone to enjoy and celebrate the joyous spirit of Christmas.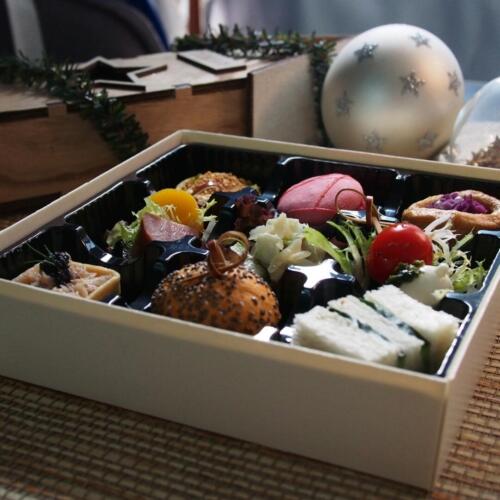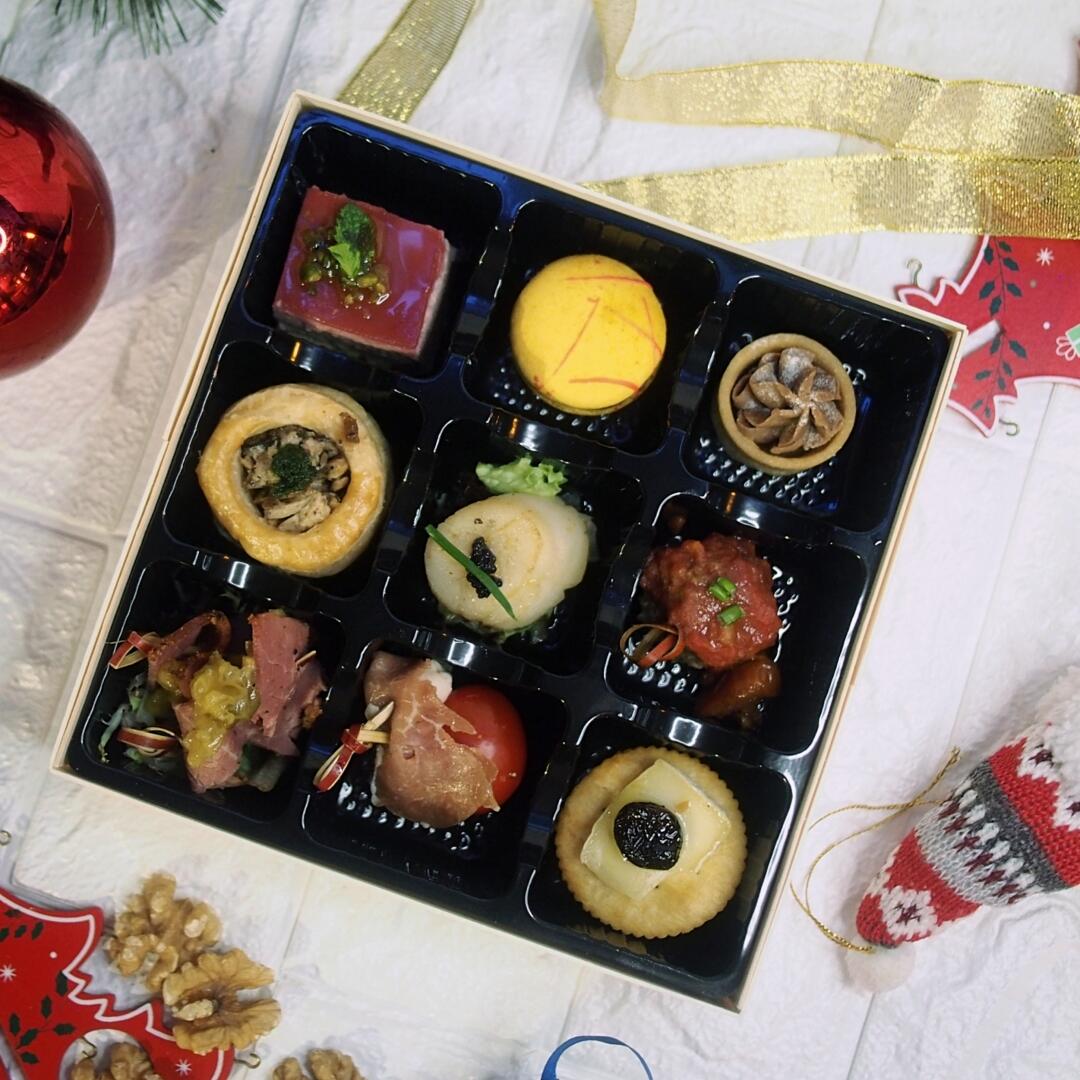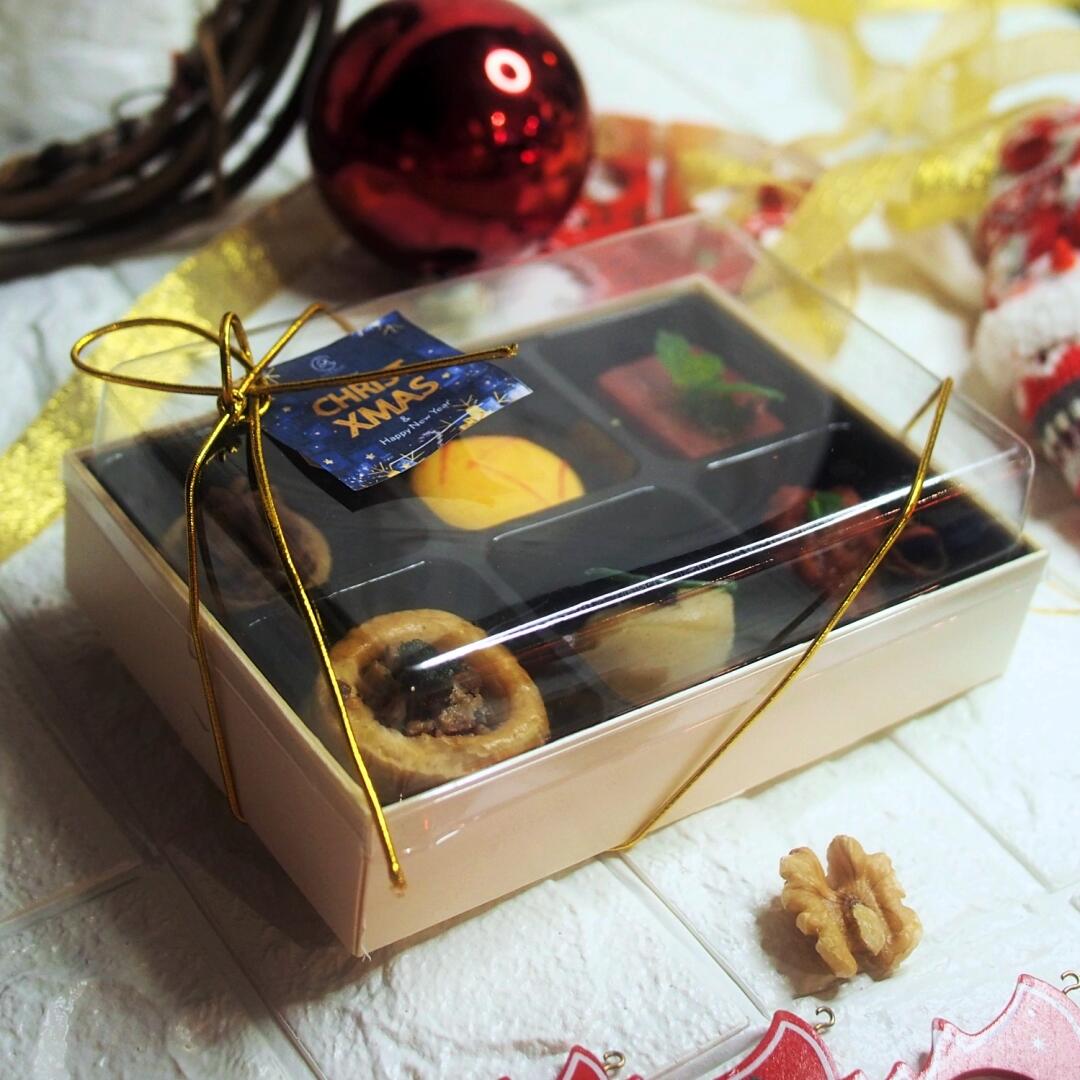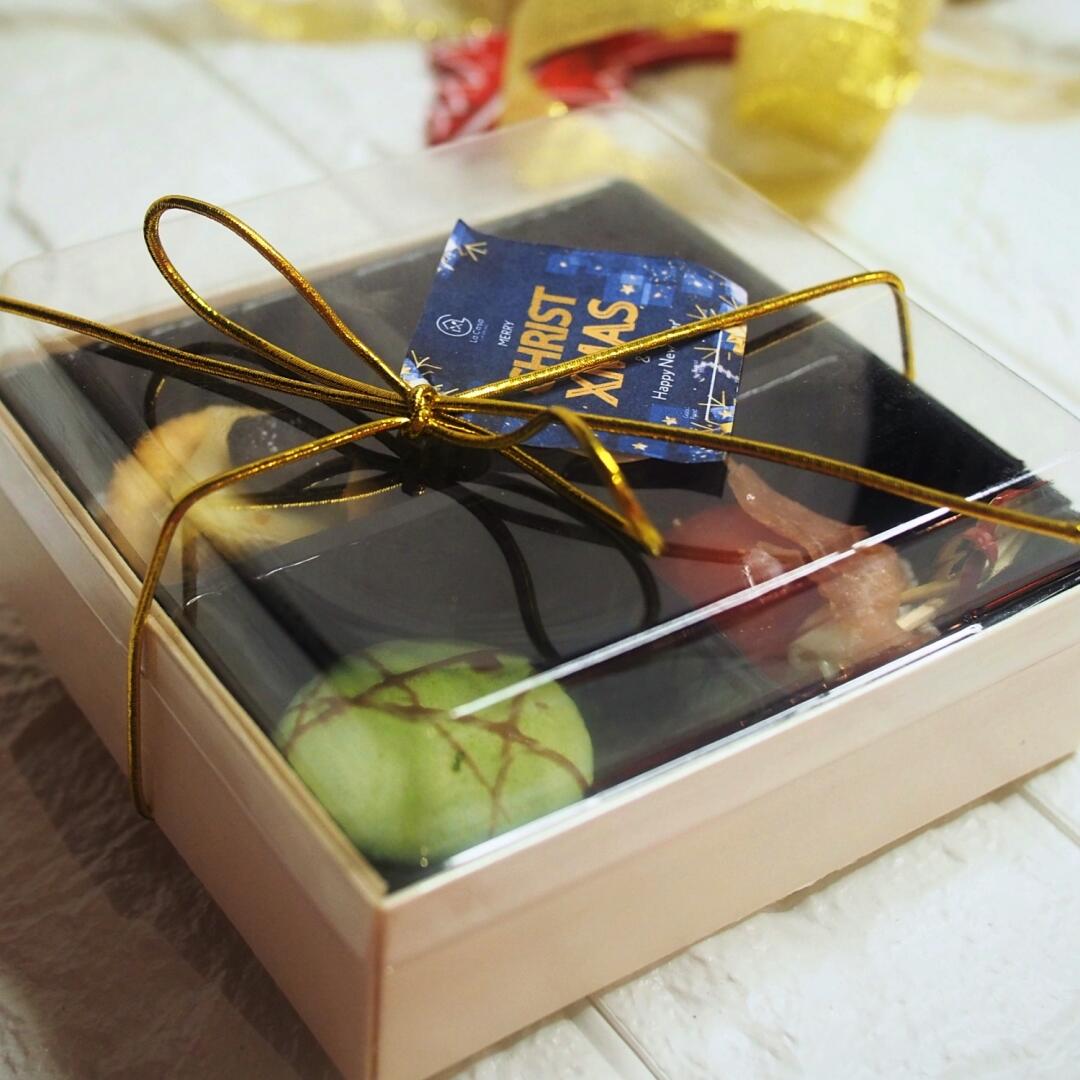 BC01. Brie Cheese & Dry Cranberry on Toast (V)
BC02. Smoked Salmon Rose & Dill on Cucumber
BC03. Mini Cucumber & Cream Cheese Sandwich
BC04. Crab Meat Tart with Caviar
BC05. Truffle Egg Salad & Asparagus Tart (V)
BC06. Cream Cheese Tart with Caviar
BC07. Pumpkin, Beetroot & Feta Cheese Tart (V)
BC08. Spicy Salami, Black Olive & Cheddar Cheese Skewer
BC09. Prawn Salad Vol-au-vent
BC10. Prawn Cocktail with Champagne Jelly
BC11. Smoked Salmon & Onion Quiche
BC12. Turkey Ham & Asparagus Roll
BC13. Mini Angus Beef Burger
BC14. Foie Gras Mousse with Pistachio & Cranberry Sauce on Toast
BC15. Seared Hokkaido Sashimi Scallop with Carrot Puree & Bacon Bits
BC16. Christmas Mini Lobster Burger
BC17. Christmas Chestnut Tart
BC18. Chocolate Tart with Brandy Raisins
BC19. Mini Strawberry Mousse Cup
BC20. Mini Chocolate Brownie with Passion Plant
BC24. Mini Apple Crumble Tart
Early Bird Price (until 30 Nov)
Original Price
9-grid Canapes Box
HK $198
HK$218
6-grid Canapes Box
HK $138
HK$158
4-grid Canapes Box
HK $98
HK$118
All food will be served in Room temperature. If the food is not served immediately, please keep in fridge (0-4°C).
| Districts | Areas | Door to Door Notes |
| --- | --- | --- |
| District A | HK Island | HK$300 (door to door) or HK$150 (pick up from driver at parking area) |
| District B | Kowloon or Kwai Tsing | HK$300 (door to door) or HK$150 (pick up from driver at parking area) |
| District C | Other N.T. area | HK$400 (door to door) or HK$250 (pick up from driver at parking area) |
| District D | Tung Chung or Discovery Bay | HK$600 (door to door) or HK$400 (pick up from driver at parking area) |